Steeped in centuries of history, elaborate tea ceremonies conducted with intricate detail is an integral part of Japanese culture. Beyond just the ritual servings, tea ceremonies are about bringing people together – taking a step back from the fast pace of everyday life to quietly enjoy the Zen-inspired experience.
When it comes to green tea, the Japanese have elevated it to an art form. Meticulous in every detail from growing exceptional quality grades to elevating the delicious brew with the purest indigenous water and served with ceremony in master crafted earthen teaware.
We visit craftsmen, farmers and small producers to source the finest teas renowned for its restorative and bioactive properties, as well as clean and delicious flavours.
Discover a  world of luxury green teas with Ikigai-shu.
Let us introduce you to luxury teas and ceremony insights to make your product offering of services truly special with a unique touch.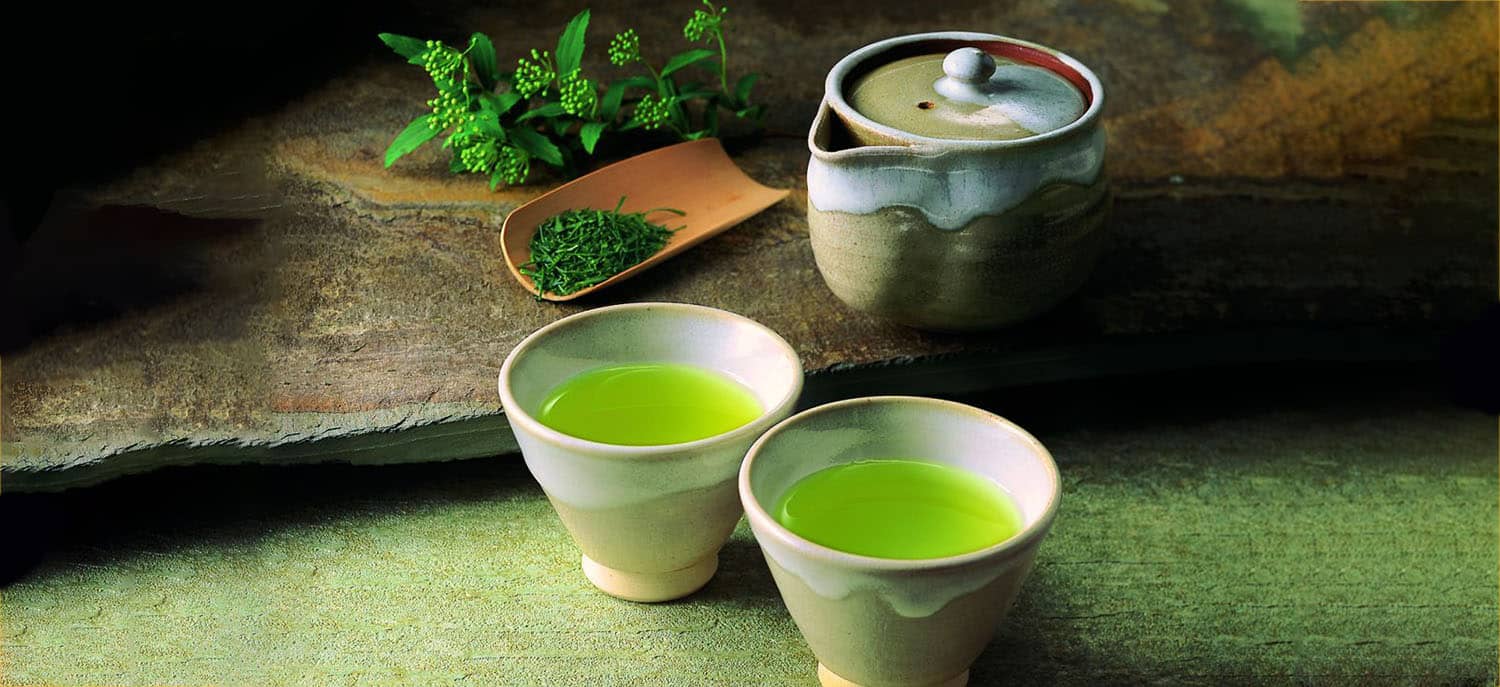 Jugetsudo, founded in 1854, is the exemplar in the art of tea in Japan. More than 160 years of tradition and experience pursuing the highest quality ingredients, along with the spirit of "Cha-Zen" promises an enjoyable fragrance of tea that both stimulates your senses and provides a sense of comfort. Jugestsudo offers a wide range of green teas, from the most delicate to the most powerful. Matcha, Sencha, Hojicha, Gyokuro or Genmaicha tea, reveal their secrets, in order to reveal all their specificities.
Over 25 Michelin awarded restaurants in Japan choose to use Jugestsudo tea. A number of high-end hotels and restaurants in Paris serve Jugetsudo tea: Le Cinq at Four Seasons Hotel George V, Le Royal Monceau, three Michelin star awarded restaurant La Dame de Pic and two Michelin star L'Atelier de Joël Robuchon to name a few.
In the UK, Selfridges, one of the most refined department stores now carries Jugetsudo tea.
We are privileged to offer the Jugestsudo range to tea connoisseurs in the Middle East.
Purpose and passion are two magical powers that brought Ikigai-cha to life. Having ikigai (the reason of living) at its essence, the Ikigai-cha team is empowered to travel through Japan partnering with tea farmers from Shuzuoka, Kyoto, Kagoshima, Mie and Fukouka. We handpick the best tea cultivars from the most iconic gardens of Japan, follow the production process – from the harvesting to rolling of every tea product in their range, and blend them into a delicious brews. From humble yet southing Hojicha and Genmaicha, refined and elegant Sencha, rare Hon-Gyokuro and unique Wakoucha – there is a special tea for everyone and every occasion.
Ikigai-cha Tea Academy was founded to glorify Japanese teas. It takes both expert and amateur tea lovers on a journey of discovery into the world of tea to witness the magnificent transformation of leaves into a seducing beverage, which is not only a delicacy but a powerful epi-nutrient. Ikigai-cha Tea Academy's purpose is to support tea farmers, demystify the world of Japanese Tea, enable consumers and professionals to make informed choices on selecting, preparing, serving, pairing, and most importantly, enjoying Japanese teas.